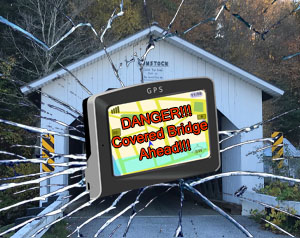 After three months of repairs, costing over $50,000, the Millers Run Covered Bridge was reopened to traffic on Monday August 20th, 2019 according to the Caledonian Record. Traffic was flowing again following the inspection by the Vermont Agency of transportation.
The bridge repairs were completed by Winterset, Inc. of Lyndonville, Vermont.
The cost of repairs were paid for by Upper Valley Produce who owned the truck that caused the damage. Repairs were made to braces, roof posts, and siding.
To read the full article from the Caledonian Record, Town Awards Millers Run Bridge Repair Contract, you will need to purchase a subscription.
Here is a link to the original article detailing the damage on May 16, 2019: Miller's Run Bridge Damaged by Oversized Truck
Editors note: Information and picture reprinted with permission from the Caledonian Record Publishing Company, Inc.