Cooley Covered Bridge
Pittsford, VT
WGN Number: 45-11-07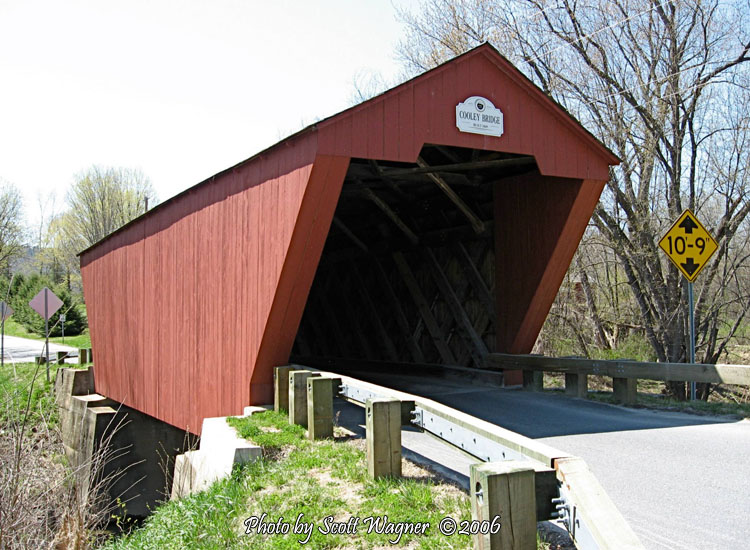 The Cooley Bridge, constructed early in the career of Nichols Powers, one of Vermont's premier builders, features gable end overhangs that are unusually long, even for the Pittsford area. The bridge is named for the family who owned the land around it. The family is decended from Gideon Cooley, veteran of the French and Indian wars. Many authors have commented that the bridge resembles a Conestoga wagon.
In 2002 the V.A.O.T. Historic Bridge Committee met to discuss the present condition of the bridge and rehabilitation options. The work was funded by the National Covered Bridge Preservation Program, the State of Vermont, and the town of Pittsford. Rehabilitation work was completed in 2003 by Neil Daniels Construction of Ascutney, Vt.
Here is a link that documented some of the process: Cooley Bridge Rehab Under way.
Our thanks to the Town of Pittsford for allowing the posting of the Vermont Covered Bridge Society Welcome patch. For more information about the Pittsford area visit their website at http://pittsfordvermont.com.
Cooley Covered Bridge Vital Statistics
| | |
| --- | --- |
| Town: | Pittsford |
| Location: | Elm Street |
| Crossing: | Furnace Brook |
| Date: | 1849 |
| Builder: | Nichols Powers |
| Truss Type: | Town lattice |
| Truss Length: | 51 feet |
| National Register of Historical Places Listing Date: | January 24, 1974 |
| Rehabilitation Date: | 2003 |
| Rehabilitation Contractor: | Neil Daniels Construction |
Credits: All pictures, information and descriptions are taken from Spanning Time Vermont's Covered Bridges by Joseph C. Nelson ©1997 and the World Guide to Covered Bridges - 2009 unless otherwise specified.