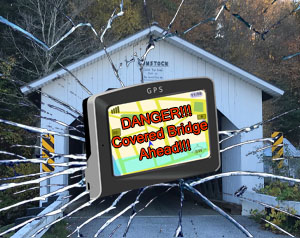 May 16, 2019: Multiple sources report that the Miller's Run Covered Bridge in Lyndon Center was damaged by an oversized box truck. VTrans advises that "The covered bridge on Center St. in Lyndon will be closed until further notice due to significant structural damage. Please seek alternate routes."
A driver following GPS directions was stated as the reason for the truck taking the route with the covered bridge. The bridge is posted with an 11-feet 9-inch height sign. The truck was 12-feet 4-inches high.
Lyndonville Police Chief Jack Harris described the damage as "significant". The condition of the bridge is still being assessed at this time. Many of the roof supports were damaged.
Bridge damage video courtesy of Mike Grant
Read the full coverage from WCAX here: Delivery truck smashes through Lyndonville covered bridge
The local newspaper, the Caledonian Record, also has an in depth article including photos: Box Truck Crashes Through Miller's Run Covered Bridge.
Editor's note: Thanks to Steve Bergeron for bringing this to our attention.