September 17, 2019: FOUNTAIN COUNTY - After years of falling into decay, two of Fountain County's covered bridges could be getting a makeover.
The Fountain County Historical Committee has begun raising funds to repair the Cades Mill and Wallace bridges. Both structures have been in need of attention, but a leaning support beam has made the Cades Mill span unstable.
"We want to do a temporary fix on it this fall and raise the money to do…a permanent fix next year," said Henry Schmitt, committee chair. "And once we get that one done, we'll move to the Wallace Bridge."
Built in 1854, the Cades Mill structure, which crosses Coal Creek near Steam Corner, is the state's oldest covered bridge. The 150 foot long Howe Truss was built by Captain William Bloomer White and was named for White's nearby mill.
The temporary repairs are expected to cost $15,000, Schmitt said.
The 81 foot long Wallace Bridge, built in 1871 over Sugar Mill Creek, was temporarily reinforced after damage from a storm.
"I'm just glad we have the historic structures and our job is to keep them for the future," Schmitt said.
The price tag for restoring both structures is an estimated $150,000. Schmitt cautioned that figure could change as the scope of the projects is finalized.
A Parke County man who helped rebuild the Bridgeton covered bridge after it was destroyed by arson in 2005 is working to provide quotes to the committee, Schmitt said.
The committee is also working to nominate the structures, along with the covered bridge in Rob Roy, to the National Register of Historic Places. The 159-year-old Rob Roy Bridge was repaired and re-opened to vehicle traffic in 2017.
The status would make the bridges eligible for federal historic preservation funding. Schmitt said the committee is also seeking grants and hopes the county will provide money as fundraising takes off.
Tax-deductible contributions can be sent to the Western Indiana Community Foundation, P.O. Box 175, Covington, IN 47932.
From: Crawfordsville Journal Review, September 17, 2019
Wallace Covered Bridge (WGN 14-23-01)
Photo by Nick Hedrick ©September 2019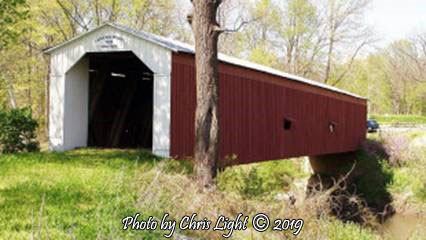 Cades Mill Covered Bridge (WGN 14-23-02)
Photo by Chris Light ©September 2019
Editor's note: Thanks to Bill Brandenburg and James Crouse for bringing this to our attention.