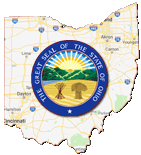 September 23, 2018: In case you don't already have a photo of the gathering of FOUR of our CB societies' presidents, the two attached photos show them in front of the replica ("romantic shelter") beside the Ashtabula County Convention and Visitors Bureau in Austinburg, Ohio, in connection with the joint 2018 safari of the National Society and the New York State CB Society. Taken the morning of 23 September, we see (left to right) Tom Walczak (Theodore Burr Covered Bridge Society of Pennsylvania), Wayne Marshfield (New York State Covered Bridge Society), Andy Rebman (Indiana Covered Bridge Society), and Bill Caswell (National Society for the Preservation of Covered Bridges).
(The "romantic shelter" is not yet on Dale Travis' site and thus I do not have a World Guide number for it. I've written Dale today and hope it will soon appear and have a number -- 35-04-and some lower-case letter.)
Editor's note: Thanks to James Crouse for providing this information and picture.