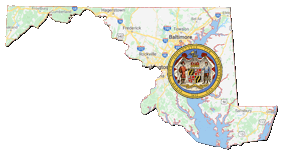 September 9, 2014 Thurmomt, MD - A large truck apparently drove through the bridge this morning and damaged a roof brace forcing the closure of the bridge according to superintendent of Highway Operations Bill Routzahn. The damage was assessed and repairs were made that morning. The bridge was reopened by early afternoon.
Loy's Station Covered Bridge (MD-10-03#2) is located on Old Frederick Road and crosses the Owens Creek. The bridge is 90 feet long and uses a multiple Kingpost truss. The current bridge at this location was built in 1994. The original bridge was built in 1848 was destroyed in 1991 by arson. For information on this historic bridge and its ties to the Civil War visit the Maryland Covered Bridges website: Loy's Station Covered Bridge.
The following web link from the myfoxdc.com contains the full story: Covered Bridge in Thurmont Reopens After Repairs.
The Frederick News Post web link also covers the story: Loy's Station Covered Bridge Damaged, Repaired.
[Our thanks to Tom Keating for sharing the story - Ed.]