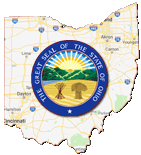 August 13, 2013 Dayton, Ohio - The Second National Covered Bridge Conference was held from June 5 - 8 in Dayton, Ohio. Presentations were given by individuals from across from the United States, Canada, Germany, Sweden and China. In all there were fourteen sessions covering a wide range of topics, from historical to technical, relating to wooden bridges.
In addition to the many sessions there was a presentation of a model of a Chinese bridge by the members of the Taishun, China delegation to David Simmons of the Ohio Historic Bridge Association.
Conference attendees were also able to go on two covered bridge tours to visit the covered bridges of Preble, Greene, Miami and Montgomery, Ohio counties. The tour included visiting bridges with may different truss types: Childs, Multiple King, Burr Arch, Pony, Long, Inverted Bowstring and Warren with Arch. Accompanying the tour were expert builders, engineers and officials.
On the second day of the conference there was also a Hog Roast Dinner provided by the Preble County Historical Society. The setting for the dinner was the historic Sayler-Swartsel Farm. The entertainment for the evening was provided by Puzzle of Light.
For more information on the session details visit this website: 2013 National Covered Bridge Conference Papers.
[Our thanks to James Crouse for sharing the story and to Christopher Marston for providing the web link - Ed.]