November 7, 2010 - Hey all, After receiving Bob Michielsen's email about a new covered bridge (R/S) in New York, I thought I'd send another one that I found close to our home.
Here are the directions to the bridge.
From Jct, Rt-4 ...in Fort Edward, go .7 miles on Rt-197 to a left turn onto County Rt-29 (W. River Road). Go 3.5 miles to the bridge on the left, which is across from MOTT RD. It connects County Rt. 29 with Griffin Island. In the inlet you can see 4 sea planes docked just downstream from the bridge. It has a slate roof too.
It was added onto an existing bridge that the owner built last year supported by 5 steel I-beams. The owner told me it could support any vehicle that travels on any super highway in America. It has a 14' 4" clearance through the bridge. Is approximatly 55' long and connects the shoreline of the Hudson river to Griffin Island where there are a number of sea planes docked in the inlet. The bridge is called "Pilot's Crossing".
Here are some pictures of the bridge I took a couple weeks ago.
David Guay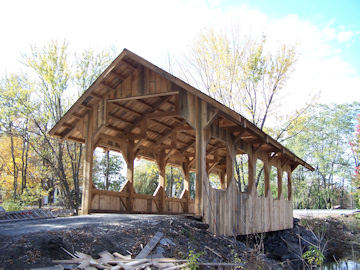 Pilot's Crossing Romantic Shelter
Fort Edward, New York
Photo by David Guay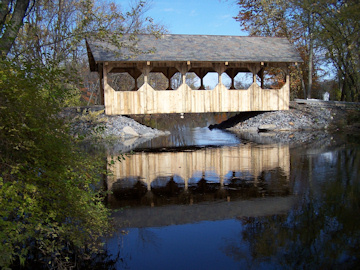 Pilot's Crossing Romantic Shelter
Fort Edward, New York
Photo by David Guay