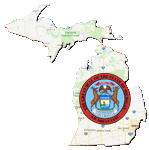 Keene Township, MI, January 11, 2010 - White's Bridge, Michigans's oldest covered bridge still carrying traffic, was damaged by a hit and run driver. The bridge is now closed until further notice.
Police have identified the driver.
The 116-foot White's Bridge was built in 1869 to cross the Flat River in a single span using the Brown Truss.
For the story and photo, go to: http://www.woodtv.com/dpp/news/local/central_mich/Whites-Bridge-damaged-closed.
[Our thanks to Tom Keating for finding this article - Ed.]