Marlboro, Vt. - School teacher Johnny Esau's fourth-grade class at the Marlboro Elementary School built a lattice truss covered bridge, five-feet wide, 15-feet long, after the style of the Silk Road Bridge in Bennington, Vt.
Esau has taught his classes about covered bridges throughout his 25-year career, using the bridges to teach his students their required subjects, including architecture, and history. The students built toothpick models to learn the science and physics of structural loading. Esau and his class have traveled throughout Vermont looking at bridges while exploring Vermont geography.
Esau had wanted to build a bridge that people could walk through. His ambition was finally realized in his last year before his retirement. His students began building the bridge during the schools winter sessions. In May, 2004, the students began to lay out the more than one-hundred pieces of the bridge on the school grounds. With the help of parents and community members, the bridge was assembled.
"It's amazing," said Esau. "I looked at what we accomplished. It's so sweet."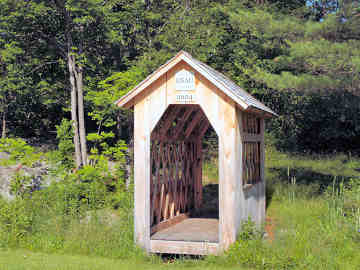 Johnny Esau Bridge
May 2004
[This article based on an article from the May 5, 2004 edition of the Brattleboro Reformer, written by Howard Weiss-Tisman. Our thanks to Johnny Esau for forwarding the clipping. - Ed.]