November 19, 2004, Boonville, NY - On this day a new covered bridge was placed over the Black River Canal, connecting the historic Black River Towpath with Erwin Park.
The bridge will serve pedestrians, bikes and snowmobiles accessing a Black River Canal museum planned for Erwin Park.
The bridge spans 70 feet using a Town lattice truss. The deck, 24 feet wide, will accommodate a 14 foot driving area and a 6 foot walkway.
The 12-member Erwin Park Covered Bridge Committee planned and promoted the project. The estimated cost of the bridge was $150,000. The construction is being funded by a $100,000 grant from the New York State Parks Department and a donation of $20,000 from the Iroquois Pipeline Co.
The Boonville, N.Y. span will be listed by the National Society for the Preservation of Covered Bridges as World Guide Number 32-33-03.
Boonville NY's New Bridge
Photo by Dick Wilson
November 19, 2004
Boonville NY's New Bridge
Photo by Dick Wilson
November 19, 2004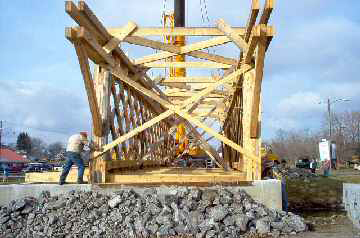 Boonville NY's New Bridge
Photo by Dick Wilson
November 19, 2004