May 1, 2003 - Hey all! Went to see what work was done on the Sanderson CB yesterday,(quite a bit has been done there) and decided to stop by the Gorham CB to see if it was still closed. What a surprise I got. Here are the details I got from the Project Supervisor, Jason Billings.
Work started 4/29/03, and the completion date is November. Cost of the project is 1.2 million. The bridge weighs 156,000 lbs.
The bridge will be taken off the river and put on to the west bank to be worked on. The target date is 5/7/03 Tuesday, May 7, weather permitting, to take the bridge off the river. Cranes, barges & trucks with flatbed trailers will be used to do this job.
Being replaced: Floor beams, Decking, Siding, All Roof including rafters & parallel & collar ties & all knee braces. Bottom/Bottom chord will be replaced with a 114 ft glue laminated beam, Top/Bottom chord will be of southern yellow pine. Approximately 40% of end lattices will be replaced, center lattice will be saved. Floor beams will be glue laminated beams, decking will be of southern white pine. Both abutments will be taken out and replaced with concrete, and elevation will be the same as original abutments.
The work is being done by Contractor Crane Service (CCS) of Morrisville.
Later, Yours in Bridging,
David Guay
Gorham Bridge [WGN 45-11-04]
Photo by David Guay
May 1, 2003
Gorham Bridge [WGN 45-11-04]
Photo by David Guay
May 1, 2003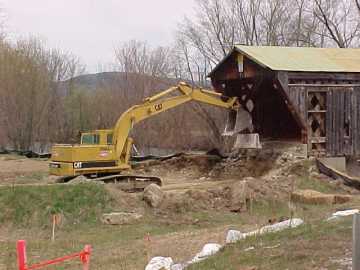 Gorham Bridge [WGN 45-11-04]
Photo by David Guay
May 1, 2003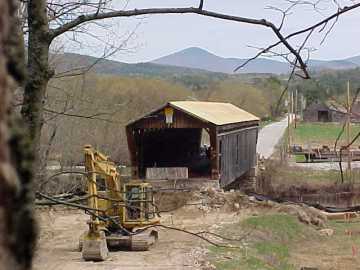 Gorham Bridge [WGN 45-11-04]
Photo by David Guay
May 1, 2003
[David Guay is Co-editor of the NYSCBS Newsletter and a member of the VCBS - Ed.]