Shavertown, NY - July, 2001 - The privately owned Lower Shavertown Covered Bridge in Delaware County was damaged when the driver of a loaded fuel truck tried to make a delivery to the property owners.
The truck broke the bridge floor and rode it down into the creek-bed..
Said Phil Pierce, Deputy Commissioner of Engineering for Delaware County: "The floor was supported by oak planks on pine logs cut at the site without pressure treatment and completely independent from the truss. Although the truck leaned into the truss, it did no apparent serious damage to it. A large wrecker winched the truck out without any further damage."
The incident occurred, according to an NYSCBS Newsletter article, when a new driver missed instructions to use an alternate bridge to make his delivery.
The 32-foot town truss bridge spanning Trout Brook, built in 1877 was known as the Campbell Bridge, World Guide number 32-13-07.
The new bridge floor will be supported on a pair of steel beams with oak planks and running planks on top, said Pierce; "So, there's no real damage to the truss structure - it retains it's charm."
Inside the bridge without the truck
Photo by Phil Pierce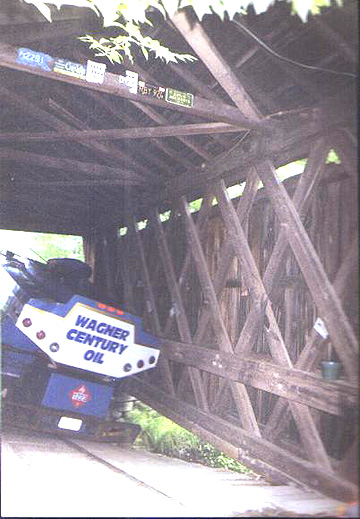 Inside the bridge with the truck
Photo by Phil Pierce.
Underside of the bridge with the truck
Photo by Phil Pierce.