Tuesday, 16 May 2000 - Hi Joe,
Hi Joe, Saturday we took a ride up to Tunbridge to see how the work was coming along. Both trusses are done and are upright. All the floor beams are in. Talk about OVERKILL. I don't think they should have used so many floor beams, but that's the way they spend the money! It looks good and will be able to hold a tank. Here is a picture of the bridge. They are just starting the roof.
Dick Wilson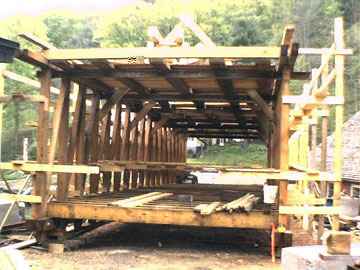 ---
May 19, 2000 - Says Dave Earl, a project coordinator for Daniels Construction: "...The verticals (king posts) are select structural douglas fir and the diagonals (braces) are dense select structural douglas fir...It was my job to count hardware and lumber, get pricing and order the material. It was quite a challenge...The project is ahead of schedule."