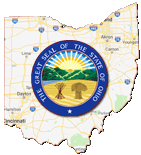 January 17, 2002
Dear Joe:
This past week Chuck and I did some covered bridging in Ashtabula County, Ohio. We saw four that we had not seen before: the Gidding Road (35-04-62); Crane Road (35-04-61); Harpers Field (35-04-19); and Mechanicsville (35-04-18).
The Mechanicsville Bridge was closed and there is a bypass. It is scheduled for rehabilitation soon according to the pamphlet we got at the info center on I90 just as you enter Ohio from Pennsylvania.
The Mechanicsville Road Bridge made us sad to think it had been let go so long. On the other had it gave us a very warm feeling to see some people had thought enough of it to decorate it for Christmas and hang an American Flag in the middle on the by-pass side for all to see.
Last fall we had seen the Middle Road Bridge (35-04-06), Creek Road Bridge (35-06-05), and Stole Road Bridge (35-04-58), all in Ashtabula County. Then we saw the Waterford Bridge (35-25-04), slated for rehabilitation but not sure when.
We have not been down to the Knapp's Covered Bridge since last fall. When the weather is better we plan to go see if there has been any work down on it. We'll keep you posted on work in progress if any.
We are planning on going to Bennington, VT. to celebrate Chuck's birthday with some friends. Plans are to go covered bridging and to go to the museum there.
Happy Bridging,
Nancy Knapp,
Elmira, NY
Mechanicsville Bridge (35-04-18) Ashtabula, Ohio
Photo ©1/9/02, C. Knapp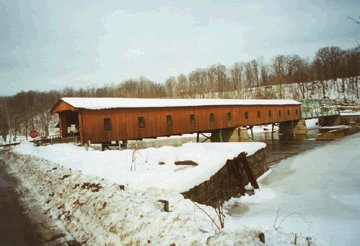 Harpersfield Bridge (35-04-19) Ashtabula, Ohio
Photo ©1/9/02, C. Knapp