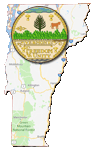 February 6, 2020: Laura Harvey Lamonda has made us aware that the River Road Covered Bridge, in North Troy, has collapsed into the Missisquoi River today. The Newport Dispatch News is reporting that the bridge caught fire and collaped.
According to a post by Paul Chouinard in Covered Bridges of New England, the bridge fire was started when a snowmobile caught fire while passing thru the bridge.
WCAX has posted the video of the collapse captured by Mark Rappold: Landmark covered bridge collapses from fire damage.
Anita Larkin Ford passed on this statement from the Troy Volunteer Fire Department:
02/06/2021....11:04am...Troy Fire was dispatched to the Covered Bridge on Veilleux Rd in Troy, for a report of a snowmobile on fire in the bridge. While enroute to the call a Troy Captain on scene updated that the bridge had heavy fire throughout the structure. Troy Fire Chief requested mutual aid for tankers from Jay FD, to respond on the West side of the bridge and North Troy FD to respond on the east side of the bridge to supply our Engines with water. After knocking down the bulk of the fire the bridge lost its integrity and collapsed into the Missisquoi River. Under tough circumstances, we would like to thank everyone for working hard on scene. The Vermont State Police Fire Investigation team responded to this incident as well.
While we understand this was a sad day losing our Towns covered bridge, one of very few left in the State, we are extremely glad that nobody was injured during this tragic event. That being said, we will not tolerate any rude comments or remarks on this post toward the snowmobile owner or how/what caused this event to unfold. Thank you
Click here to read the full article from the Newport Dispatch News: Covered bridge fire, collapse in Troy.
Jack Thuston of NECN filed this report on Monday with an interview with Bill Caswell, president of the National Society for the Preservation of Covered Bridges, and photos by VCBS member Edwin Loveland: After 'Devastating' Covered Bridge Fire, Vermont Town Assesses the Damage.
The following photos were provided by Brendon Elie of North Troy:
We will update this story as additional details become available.