Fines Increased For Covered Bridge Bashers
Stupidity To Be Punishable By $5,000, $10,000 and $15,000 Fines
Paul Hayes phayes@littletonrecord.com Staff Writer Dec 21, 2021 Updated 15 hrs ago
LYNDON — Hours after the latest covered bridge collision, the Select Board sent a message..
By a 3-0 vote on Monday, they tripled fines for height and weight limit violations on the town's two driveable covered bridges, Miller's Run and Chamberlin Mill.
Drivers that exceed those limits — 11-foot-9 and 16,000 pounds for Miller's Run, 10 feet and 10,000 pounds for Chamberlin Mill — will be subject to fines of $5,000 for a first offense, $10,000, for a second offense, and $15,000 for third and subsequent offenses.
The previous fine amounts had been $2,000/$3,500/$5,000.
The change will take effect in 60 days, barring an appeal.
The increased fines are meant as a deterrent. They would also fund mitigation measures for the oft-damaged Miller's Run bridge, which was struck for the sixth time this year on Monday morning.
One of those mitigation measures is moving forward. The town will be installing steel I-beam structures at either end of the bridge to block tall vehicles. Design work is ongoing, NSA Industries is creating drawings for review. The project cost and timeline are unknown at this time.
Meanwhile, plans to install surveillance cameras to capture offenders' license plates are under consideration, with Select Board support.
There is currently a privately operated surveillance camera in place, but it lacks the resolution to read plates. As a result, offenders who are responsible for bridge repair costs on top of the fine are never caught, and the expense falls to the town. Repairs typically run $1,100 per incident.
"People don't realize what the financial impact to the community is, they think other people are paying for it," said Select Board member Nancy Blankenship.
For the time being, without high-resolution cameras in place, Town Manager Justin Smith urged witnesses to report incidents, so that offenders are identified and held accountable.
"We're not capturing all of these trucks, even with the [private] video camera in place. But there have been motorists at most all of these incidents, and they're not reporting them. So my first plea would be to those that are present when one of these [accidents] happens: Try to catch the license plate, try to catch the name on the side of the truck, and call it in," Smith said.
The increased fines would apply to drivers who strike the steel barriers at Miller's Run once they are in place.
Accidents have continued at Miller's Run despite increased signage about the bridge height for motorists traveling in both directions.
The latest was on Monday, when a white box truck traveling north on Center Street struck the overhang and dislodged multiple boards at around 8 a.m. The truck continued towards Interstate 91 and the driver has not been identified. The incident remains under investigation by Vermont State Police.
A white box truck strikes the Miller's Run covered bridge on Center Street in Lyndon on the morning of Dec. 20, 2021
Photo courtesy of the Caledonian Record
Miller's Run Bridge, Lyndonville, Vt.
#filephoto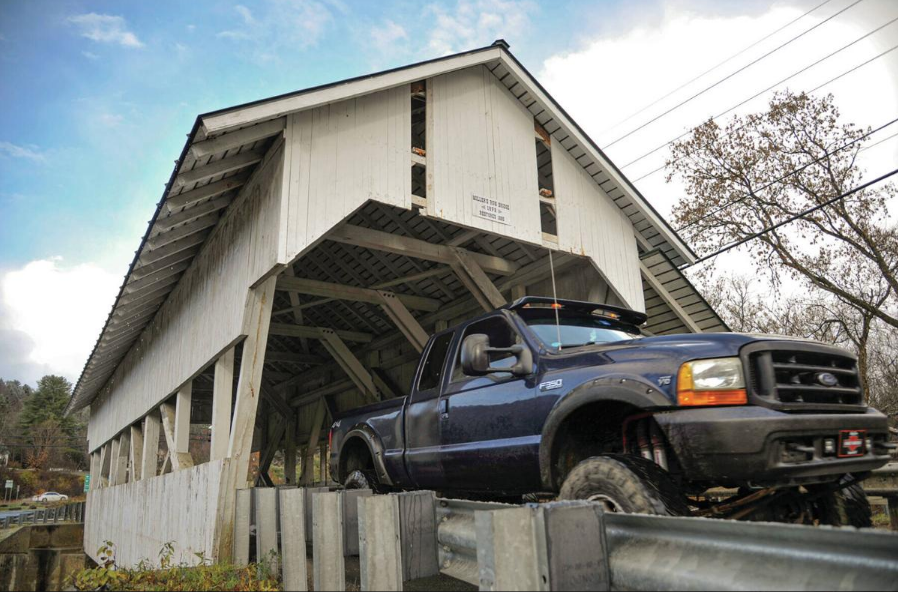 A truck exits the Miller's Run covered bridge in Lyndon Center on Wednesday, Nov. 3, 2021. Gaps in the southern end of the bridge were caused when a vehicle that was too tall tried to pass through the bridge in early November.
(Photo by Dana Gray)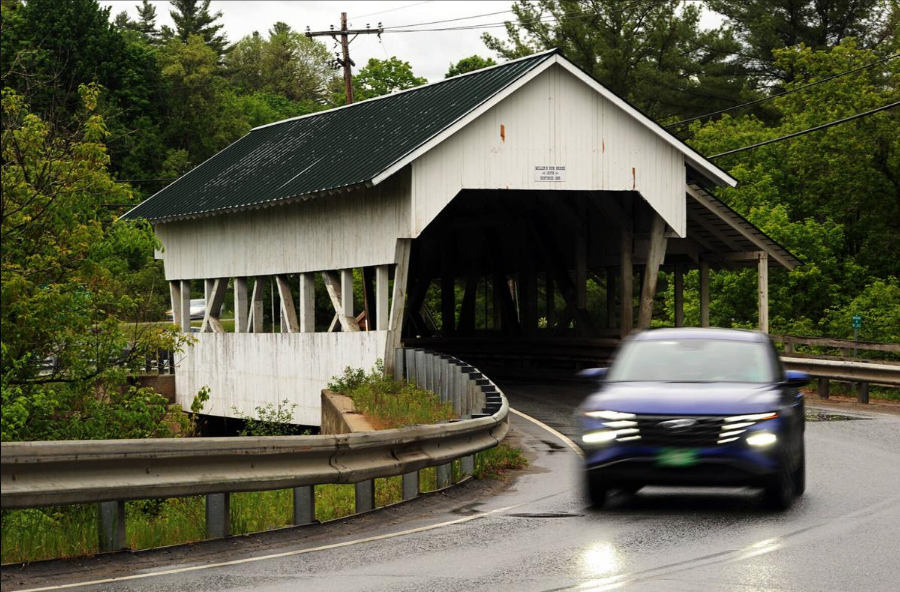 Miller's Run Bridge, Lyndonville, Vt.
#filephoto