Brown's River Covered Bridge
Westford, VT
WGN Number: 45-04-05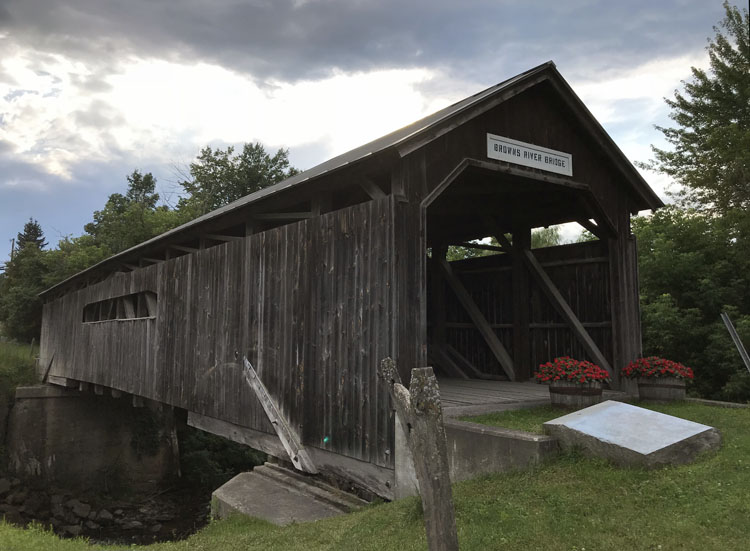 The Brown's River Bridge was built in 1838 to serve the never completed Vermont Market Road. Bypassed by a concrete bridge in 1965, the bridge deteriorated and was in danger of collapse before the community came to the rescue in 1987 and hired Milton Graton to restore it. The bridge was removed from the crossing and restored as it rested next to the town garage.
The Covered Spans of Yesteryear website provides quite a history of the bridge and its restoration:
"When originally built, its cost was not to exceed $600.00. The bridge is noted for its very large hand-hewed timbers."
"It was repaired in 1976 by the Vermont Naval Reserve (Seabees) and the townspeople."
"The bridge was closed to all traffic, including foot traffic, in 1987 when it was feared the structure would collapse. In October, 1987, it was raised on timber cribbing, false work was built beneath it, and a team of oxen pulled the bridge off the river on log rollers to an open field next to the town garage. The event was of such importance that the National Geographic Society filmed the entire operation. A campaign was started to raise funds to restore the bridge."
"With additional funding raised, the bridge was rebuilt and restored to its original location on a bypassed section of Cambridge Road on July 20, 2001 with final restoration work completed on July 30, 2001. The restoration included pouring concrete caps on its abutments, replacing the concrete facing on the east northeast abutment, replacing the upper chord on the upstream side due to powder post beetle infestation, part of the upper chord on the downstream side, seven truss tension members, some roof boards, the rafter cross braces, one roof crossbeam and the installation of a steel roof. In addition, a few downstream siding boards, and the portal siding were replaced. The total cost of the project from October 1987 through July 30, 2001 was $220,000.00."
The restoration of the Brown's River Covered Bridge was well documented on the VCBS website. Click here for the complete project from bids to the dedication in 2001: The Brown's River Restoration Project.
Our thanks to the Town of Westford for allowing the posting of the Vermont Covered Bridge Society Welcome patch. For more information about the Westford area visit their website at www.westfordvt.us.
Brown's River Covered Bridge Vital Statistics
| | |
| --- | --- |
| Town: | Westford |
| Location: | Cambridge Road |
| Crossing: | Browns River |
| Date: | 1838 |
| Builder: | Unknown |
| Truss Type: | Multiple King with Burr arch |
| Truss Length: | 97 feet |
| Other Names: | Westford |
| Date Renovated: | 2001 |
| Builder: | Renaud Brothers |